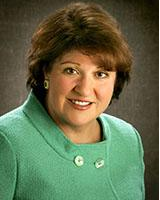 Helen S. Rogers
Firm: Rogers, Kamm & Shea
Location: Nashville - TN
The Wind in the Willows Mansion




2205 State Street




Nashville, TN 37203
Tel : 888-521-9952

Fax : 615-320-9933

Email : Helen@thewindinthewillowslaw.com

If you are preparing for divorce or dealing with another serious legal concern, nearly every decision you make could have a profound impact on your financial well-being and future happiness. In the face of overwhelming stress and uncertainty, one thing you can control is the quality of the legal counsel you rely upon.
Helen Sfikas Rogers has practiced in Middle Tennessee for more than 30 years. Her efforts and results achieved in high-profile, high-asset and high-conflict divorce cases have made Rogers, Kamm & Shea a first-call resource for many successful business owners, executives, musicians, licensed professionals and their spouses when they need family law guidance and advocacy. Ms. Rogers heads a firm with 6 other experienced attorneys and 6 paralegals all trained to give quality help to clients in need
Helen Sfikas Rogers has been recognized by professional peers with an AV Preeminent peer-review rating* through Martindale-Hubbell and inclusion in Mid South Super Lawyers each year from 2009 through 2018, among numerous other honors. In addition to arguing dozens of cases before Tennessee and U.S. appellate courts, she has lectured and published widely on a range of family law, estate law and other legal topics. Ms. Rogers is a Rule 31 Certified Mediator and is also trained in collaborative law.
---
Rogers, Kamm & Shea
Rogers, Kamm & Shea is known in Nashville, Franklin and throughout Middle Tennessee for providing personal attention, invaluable perspective and highly effective representation in family law disputes at all levels of conflict and complexity.
While we are most renowned for divorce litigation, our firm is a premier resource for people coping with a full range of other pivotal family concerns, including:
Child custody and visitation disputes
Modifications of support orders and parenting plans
Paternity claims and paternity fraud
Parental alienation
In all these matters and many more, including strategic estate planning and probate and our work for businesses, we constantly strive to relieve pressure and burdens on our clients, identify creative solutions and deliver favorable, sustainable results.