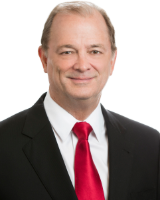 Kenneth Peck
Firm: The Peck Law Firm
Location: Charleston - SC
49 Archdale Street, Suite 1C




Charleston, SC 29401




United States
Tel : (843) 631-7117

Fax : (843) 631-7156

Email : info@thepeckfirm.com

As a divorce and family law attorney, Ken Peck has helped many people facing some of the most important decisions of their lives. He has practiced law for more than 30 years following his graduation from three prestigious universities. He is actively involved, serving the community both locally and in Washington, D.C
When you get a divorce, you are choosing to make a better life–for yourself and for the people who matter the most to you. But you can't do it alone. You need help from an experienced Charleston divorce lawyer that you can trust.
Working together, we will make a better future for you. I will listen to you, and I will help you rebuild your life.
I will leverage my extensive experience as a divorce attorney for your benefit. I have worked in large firms, but I chose to practice in a smaller firm so that I can give personal attention and exceptional legal services to each person that needs my help.
I graduated from the University of Colorado with honors in political science. Then, I received a master's degree in public administration from the University of Virginia, where I had a graduate fellowship and served as a faculty research assistant. Thereafter, I graduated from the Georgetown Law School, where the faculty asked me to teach a class in legal research and writing.
For more than 30 years, I have helped people just like you solve their divorce, child custody, property division, and alimony problems.
---
The Peck Law Firm
My name is Ken Peck, and at The Peck Law Firm, you are a person – not a case. We are here to help you at this difficult time in your life. You are not alone.
My method is unique with each woman and man that we represent in a divorce, child custody dispute, or alimony case, because you are unique and so is your situation. You may be feeling like your world is falling apart, and that is why the first thing that we do is listen. We listen to your pain, problems, fears, and your wants. We explain your options, and then we develop a plan to achieve your objectives. Working together, we will help you build a better future.
Some firms take every person that walks through the door or calls them from their website. We intentionally limit how many clients we represent. This approach allows us to give you the personal attention that you deserve. We care about each of our clients. We care about the lives you and your family will lead after your case is resolved.
We will work together to make this life transition as painless as it can be and to help you start building a better future. Each client is encouraged to try to negotiate a reasonable settlement – particularly where children are involved. However, in some situations, conflict cannot be avoided, and the case must be tried. This is where I can leverage my extensive experience as a trial attorney for your benefit.