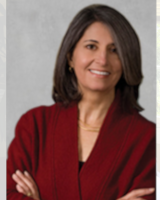 Marcia Mavrides
Firm: Mavrides Law
Location: Boston - MA
10 High Street, Suite 1002




Boston MA 02110




United States
Tel : 617-723-9900

Fax : 617-723-9903

Email : marcia@mavrideslaw.com

For over 30 years, Marcia Mavrides, lead attorney at Mavrides Law, has been a recognized leader in the divorce and family law community throughout Boston and Massachusetts. Attorney Mavrides is listed in the top 5% of lawyers, and has an AV preeminent rating, has been designated among the Top Women Lawyers in Family Law several years in a row, and has been consistently named to Massachusetts and New England Superlawyers.
Attorney Mavrides owes her success to her ability to work closely with each client, helping them toward a comprehensive and clear understanding of the legal process and its impact on their lives. Her goal is to work toward a fair resolution that provides clarity and predictability for her clients long after the legal matter has concluded. Attorney Marcia Mavrides works with her clients to develop a greater understanding of the many complexities that confront them in a divorce, including: real estate, retirement, alimony, financial planning, tax implications, health insurance and employment matters. It is Attorney Mavrides' priority that each client receive timely communications and advice at every stage of the legal process, so they are empowered to determine the best terms for settlement or whether to proceed to trial.
Mavrides Law focuses exclusively on family law, including: divorce, separation, custody, visitation/parenting plans, child support/college expenses, alimony, income attribution, asset division, parental relocation, paternity, grandparents rights, guardianships, modifications, contempt proceedings, restraining orders and mediation.
---
Mavrides Law
For more than 30 years, Mavrides Law firm has helped people in the Boston area resolve family law problems. The firm's success is built on its knowledge of the law, close relationships with clients and ability to provide effective solutions to complex legal challenges. We have the most experienced Boston divorce lawyers and family lawyers to achieve the best resolution that provides clarity and predictability for clients long after their legal matters have concluded.
Mavrides Law firm focuses on all aspects of family law. We are Boston divorce lawyers and handle various areas of law involving divorce, paternity, child support, alimony, post-divorce modifications and enforcement of judgments. Because problems in these areas affect so many aspects of a person's life, our Boston divorce lawyers seek comprehensive solutions that also resolve issues involving real estate, retirement, financial planning, taxes, health insurance and other matters.
You can be assured that Mavrides Law will do everything ethically possible to resolve your family law problems in the most positive manner available.