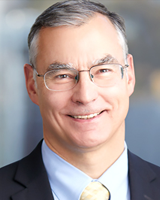 Peter Diamond
Firm: McKinley Irvin
Location: Portland - OR
1000 SW Broadway Street, Suite 1810,




Portland OR 97205




United States
Tel : (503) 395-0244

Fax : (503) 395-0278

Email : peter@mckinleyirvin-oregon.com

Peter Diamond is a people-oriented attorney who was naturally drawn to family law after an extensive and diverse practice in family law, business, real estate, estate planning, and general litigation.
"I like people. I'm interested in people's personalities, culture, and personal histories. And I like to help people when I can. For me, family law is both intellectually stimulating and rewarding."
Pete is a highly skilled and efficient trial lawyer. He is also trained in collaborative divorce and offers this as an alternative to traditional, contested divorce litigation. His experience in business law and as a business owner makes him effective in complex property division matters, including family enterprises.
Pete is sensitive to the welfare of children during the divorce process. As a father and former court-appointed attorney for juveniles, he is gratified when children come through the divorce in sound emotional health.
"When I run into former clients and they tell me they're doing well, and that their children are doing well, it reinforces that I did my job effectively."
Clients quickly learn that Pete is committed to their cases. He is a diligent communicator and can be relied upon to pursue all details of a case to its conclusion.
"I want people to see my character, and not just hear my words. When I say something will get done, it gets done."
Originally from Boston, Pete fell in love with Oregon while attending law school at Willamette University. He enjoys road trips, studying history, and spending time outdoors and with his family. His spouse of 25 years is a public school teacher. He is particularly proud of his two daughters, who are both involved in search and rescue with the Multnomah County Sheriff's office.
He is admitted to practice in all Oregon State Courts, the Oregon Federal District Court, and the Tribal Court of the Confederated Tribes of the Grand Ronde Community of Oregon. He regularly appears in Multnomah County, Clackamas County, Washington County, and Columbia County.
---
McKinley Irvin Family Law
McKinley Irvin is a premier Portland family law firm known for unsurpassed personal service, proven advocacy, and the relentless pursuit of successful results. But perhaps our most important distinction is our steadfast commitment to protecting what our clients value most.
Our firm is committed to providing a high level of personalized service. We have found that success is best achieved when we focus on the unique needs of each client. This means we listen to your concerns and priorities and adapt our services to what works best for you and your goals.