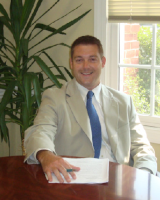 Ron Voss
Firm: Voss Law LLC
Location: Baltimore - MD
2913 O'Donnell Street Suite 220




Baltimore, Maryland 21224




United States
Tel : (410) 457-7272

Fax : (410) 630-1671

Email : ron@vosslawllc.com

Mr. Voss is a trial attorney. Although he has handled a variety of civil and criminal litigation, he now concentrates his practice in the areas of complex family law. Mr. Voss represents clients through all aspects of separation and divorce, including child custody and support, spousal support, property division, and negotiation of marital settlement agreements. Mr. Voss also handles child abuse and neglect matters, as well as protective orders and peace orders. Mr. Voss has extensive experience in handling divorces involving military members–representing both those serving in the military, as well as their spouses.
Prior to founding Voss Law, LLC, Mr. Voss was a partner at the firm of Burch & Voss where he managed and oversaw the firm's family law department and operated the Baltimore County practice. Mr. Voss graduated from the University of Baltimore School of Law where he served as the Managing Editor of the school's Law Forum publication. He was active in the Family Law Clinics and Student Fellowship for the Center for Children, Family and the Courts, where he worked with attorneys and Judges in Maryland to assist in improving the management of family law cases in the judicial system, and to aid in developing statutory guidelines for attorneys representing children.
---
Voss Law, LLC
We are dedicated to the practice of family law, actively protecting the rights and interests of families and individuals, and helping clients work through the often difficult circumstances of divorce and custody. Whether by means of mediation, negotiated settlements or contested litigation, we use our extensive personal experience to find the best solutions to the financial and custodial challenges our clients face.
At Voss Law, LLC, we pride ourselves on providing our clients with the highest standards in legal representation. We understand that your case is your life, and we appreciate that this requires our help well beyond the typical workday. This means remaining available and attentive throughout the entire process, keeping you informed and involved in all aspects of your case, and helping you to make the most effective decisions. Our approach is compassionate and supportive yet custom-tailored and results-driven to meet your individual legal objectives.