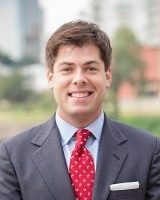 Stefan K. McBride
Firm: Wilson & Haubert, PLLC
Location: Little Rock - AR
1 Riverfront Pl, Suite 745




North Little Rock, AR 72114




United States
Tel : 501.372.1212

Fax : N/A

Email : Contact@WHLawOffices.com

Across cultures and across the centuries, people have always depended on family for love and stability. For most of us, our family is the first place we look for help during difficult times. We expect them to be there when no one else will be.
And that is why there is conflict within every family, even the ones that look "perfect." Because most of us reserve our deepest love for our family, we can be hurt the deepest by our family. There is no way around it—family members are going to hurt each other.
Stefan K. McBride is an Arkansas family lawyer and joined Wilson and Haubert, PLLC in 2013 to complement its long-established estate-planning practice. With the addition of Stefan and his experience as an Arkansas family lawyer, Wilson & Haubert can now boast that it offers a truly comprehensive approach to protecting what matters—both financial and personal. His family-law practice centers around the areas of adoption, child custody, child support, divorce, and guardianship.
Stefan graduated from the Bowen School of Law in Little Rock, Arkansas, where he served as Associate Notes Editor of the UALR Law Review and President of the Christian Legal Society. He was also one of the founding members of the Arkansas Journal of Social Change and Public Service and received two top-paper awards. Before moving to Little Rock, Stefan graduated with a Master's of Divinity (M.Div.) from Southern Seminary and served as a church planter.
He lives with his wonderful wife Carman in the charming Kingwood section of Little Rock. She teaches in the Little Rock School District.
---
Wilson & Haubert, PLLC
Wilson & Haubert, PLLC is based in North Little Rock, Arkansas and practices in estate planning and probate, business law, elder law, family law, bankruptcy, appeals, civil disputes, criminal defense, and gun trusts. We currently serve the following cities and their surrounding areas: Batesville, Benton, Bryant, Cabot, Conway, Clarksville, Jonesboro, Russellville, Searcy, Little Rock and North Little Rock.